Warm Springs: Pocket diary kept by Philip St. George Cocke, 1853
Entries at the beginning of this diary by Philip St. George Cocke discuss the earlier history of Warm Springs including acreage, capital and slaves owned by the Warm Springs Company. According to the diary, the Warm Springs property was conveyed by deed in 1814 to Dr. [John] Brockenbrough, Taylor, and Paterson with Taylor selling his interest to Brockenbrough at some point. The Warm Springs Company was incorporated in 1815. The Brockenbrough family was still invested in Warm Springs in 1853 as a letter from Wm. W. Harvie to J .H. Cocke shows.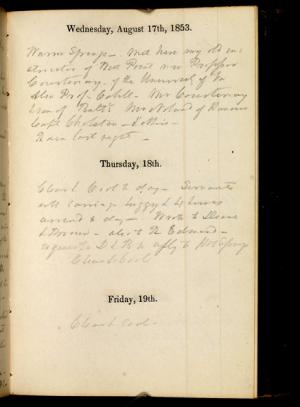 Wednesday, August 17, 1853.
Warm Springs – Met here my old instructor of West Point now Professor Courtenay of the University of Va Also Prof Cabell …
Thursday, 18th.
Clear & Cool to day – Servants with carriage buggy & 4 horses arrived to day – … to Hot Springs Clear & Cool
Friday, 19th.
Clear & Cool-
Saturday, August 20th, 1853.
Clear & Cool
Sunday, 21st.
Clear & Cool – [unclear] Services by Revd Mr Caldwell of Alexandria
Monday, 22d.
Mr John Cocke & daughter left to day for White Sulphur no rain