Hot Springs: An Account of the Hot Springs, Bath County, Va. …, 1873
Dr. James L. Cabell (1813-1889), the resident physician at Hot Springs, graduated from the University of Virginia in 1833 and obtained his M.D. degree at the University of Maryland in 1834. After studying in Paris, he returned to the University of Virginia where he became a Professor of Anatomy and Surgery. At the time this account was published he was the most senior faculty member at the University. He taught in the medical school for over 50 years.
The account describes the boiler baths, sulphur baths, hot spout baths, mud bath, octagon bath, warm bath, ladies' pleasure bath, gentlemen's pleasure bath, and ferruginous or chalybeate alum water. Cabell's treatise is on the hygienic and therapeutic effects of thermal baths and details the specific diseases that the baths are suited to treat.
The advertisement shows that the owners of the Hot Springs wanted to attract not just invalids who were seeking healing from their various ailments, but also pleasure seekers and families who would appreciate a pleasant, healthy summer home with a delightful climate, beautiful scenery, and various amusements.
The second 50 pages of the book are "Letters from Physicians and Report of Cases Cured at the Hot Springs."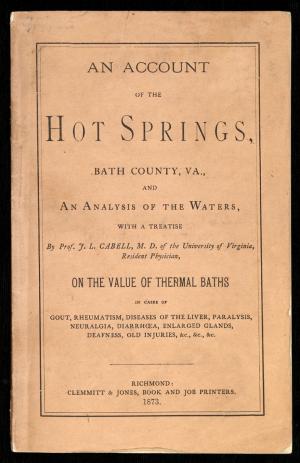 AN ACCOUNT OF THE HOT SPRINGS, BATH COUNTY, VA., AND AN ANALYSIS OF THE WATERS WITH A TREATISE By Prof. J. L. Cabell, M.D. of the University of Virginia, Resident Physician, ON THE VALUE OF THERMAL BATHS IN CASES OF GOUT, RHEUMATISM, DISEASES OF THE LIVER, PARALYSIS, NEURALGIA, DIARRHEA, ENLARGED GLANDS, DEAFNESS, OLD INJURIES, &c., &c.,&c.
RICHMOND: CLEMMITT & JONES, BOOK AND JOB PRINTERS, 1873.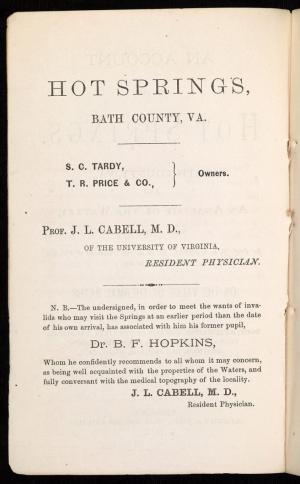 This page of the book lists S.C. Tardy and T.R. Price & Co. as the owners of Hot Springs. Both these last names appear in association with the document concerning the sale of Hot Springs in the 1860s. Dr. Cabell confidently recommends Dr. B. F. Hopkins, one of his former pupils, for those invalids who arrive at the Springs before he is able to get there himself.  The closing exercises for the 1872-1873 session of the University of Virginia were on July 3, 1873 which would have been after the start of the season to visit the springs.
ADVERTISEMENT.
The undersigned, in presenting again their annual publication, take occasion to call the attention of the public to the fact, that, while the accompanying pages set forth the attractions and value of the Hot Springs to invalids of a certain class, that it is also arranged and conducted with a view to suiting the wants of pleasure seekers and families in quest of a pleasant and healthy summer home. The delightful climate and beautiful scenery, and the extensive and well-arranged grounds, and the various means provided for amusement and recreation, all combine to make the Hot Springs one of the most pleasant resorts in the mountains of Virginia, S. C. TARDY & CO., Owner, J. A. AUGUST, Manager.